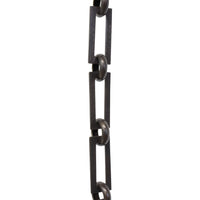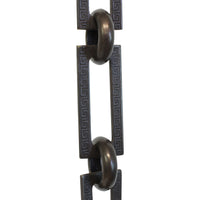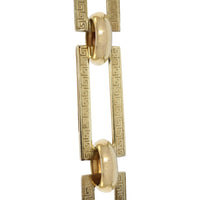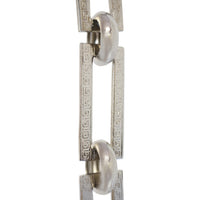 [Chain BR18-U] Brass Greek Key Chandelier Chain
Chain BR18-U Greek Key Chandelier Chain with Unwelded Brass links and Round Joining links
DESCRIPTION

• Max Weight: 50 lbs | Weight per Foot: 0.22 lbs
• Features: Unwelded, Greek Key Chain with Round Joining Links
• Material: Brass

This item is available in Antique Brass, Acid Dipped, Bronze, Oil Bronzed Black, Polished Brass, Polished Nickel

Chains are priced by the foot and this product will be supplied as a continuous length if possible. Brass chains with unwelded links can be re-sized to lengthen or shorten the chain as needed.
LINK SIZE & SPECS
Link Size
Link Type
Height (in)
Width (in)
Thickness (in)
U55
Primary link
2.17
0.87
0.1
Connecting link
1
1
5/16
| Variant | Max Load (lbs) | Weight per Foot (lbs) |
| --- | --- | --- |
| U55 | 50 | 0.22 |
The "weight per foot" signifies the weight of a 1-foot section the respective chain, not the weight a 1 ft section can sustain. For example, if you order 8 ft of a chain that weights 0.25 lbs/ft, the total weight of that chain will be 2 lbs.

The "max load" is the amount of weight a chain can safely hold, regardless of how long it is. When selecting a chain, we recommend calculating the total weight of chain based on the length you need, like in the example above. Make sure that your total hanging weight (= total weight of fixture + total weight of chain) does not exceed the stated weight capacity.
Click Here for Chain Connectors